April 2015
We have put a new page up, called vintage guitar parts; used & new old stock. We have lots of new & used parts for European vintage guitars, we don't have everything, but we are worth a try.

2nd April 2015: Made another fuzz pedal for Nalle Colt, out of the up & coming band Vintage Trouble and he is well chuffed see picture...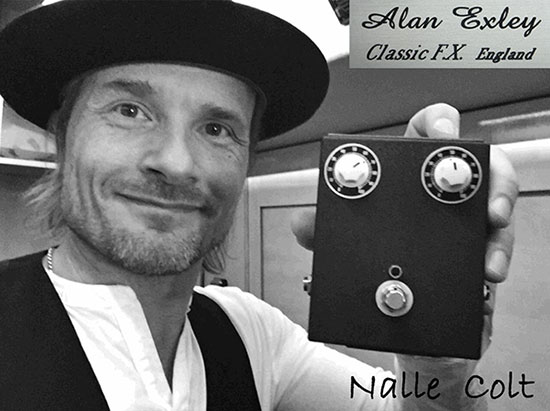 June 2012
A lot of things have happened since my last update, including, the manufacture of four Rangemaestro treble boost pedals [you will see these on the site], which were made in mid October 2008 for Billy F Gibbons of ZZ Top, these were shipped to Houston, Texas, in late October. Billy even sent me a Christmas card in Dec 2008, which will remain in the Family archive. Also, I made a reactor fuzz for Nalle Colt [lead guitarist of Vintage Trouble]. There are some pedal demos on you tube, just type in Alan Exley & it'll go straight to them.
There will be some new products added on the next website update [which will be actioned shortly]; we will be doing all of the Hofner colorama pick guards, Hofner 182 colorama bass scratch plates, all the Watkins Rapier plates in black & in white. We will be doing repro Bulgin style knobs, these were the typical cream ones with the gold dome top, as fitted on early Watkins Rapiers, Broadway, Guyatone guitars, some Fenton Weill guitars, Selmer amps; these were also fitted on record players, hi fi & radios in the 60's. Also, we will be doing some other repro knobs, like the Burns Tri Sonic, Eko Sparkle guitar knobs [witches hat type with sparkle tops] & Vox Clubman replacement knobs. We are also doing the varitone choke, which comes with wiring instructions & capacitor value suggestions & as much information as I can give with this; bear in mind this is only the choke, switch & capacitors are not supplied with this product.
Please note there will be no new pedals, as yet, some new electronic devices are being worked on for possibly release in about a year's time.
On the next website update [to be actioned shortly] there will be more of my prototype vintage style amplifiers [see photo below] these are low wattage, they sound great & loud. They are a retro style statement & they run off pound shop batteries which last a considerable length of time. Now that's value for money in this day & age! Any questions, please contact Alan on 07762 474964 between 10 am and 3 pm Monday to Friday
All the best
Alan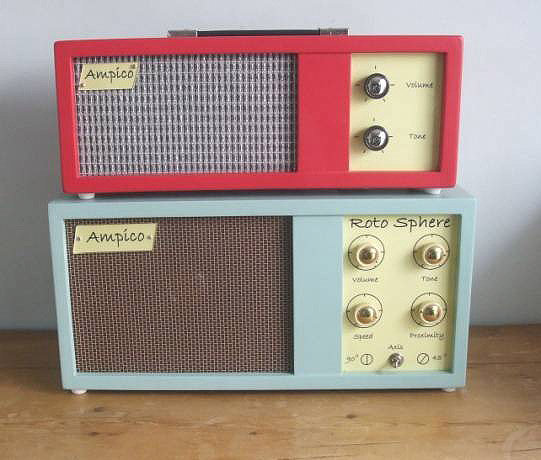 April 2007
This month the web site has been redesigned and updated.

There are many new products on the site including some classic guitars for sale. There is also another review in the May edition of Guitarist (hits the shops in mid April). A sample sound file for my Techno lo fi pedal, which is a fuzzbox with two powerful voicing filters, will be on the Guitarist CD.
A new feature on the web site is Alan' Hot Tips, where you can find some tips and quick fixes for the guitarist. This section will be updated on a regular basis and eventually I'll have a manual with 30 years of guitar tech and music experience repairing and working on guitars and equipment for Robert Plant, Bert Jansch, Tony Iommi, Ritchie Blackmore, The Darkness and many more top names.
This month also sees the launch of the Ampico range of booster pedals.
Cheers, Alan